Our Details
Name
Hikari Homes Inc.
License Number
The Minister of Land, Infrastructure, Transport and Tourism (1) 7898
Address
Imai Bldg. 2F 1-3-11 Azabu-juban, Minato-ku, Tokyo 106-0045 JAPAN
Business Partners
The Bank of Tokyo-Mitsubishi UFJ, Ltd. Ashiya branch
Amagasaki Shinkin Bank, Ashiya branch
Mizuho Bank, Ltd. Aoyama branch
Services
Property investment consulting
Real estate transactions and services
Property management and marketing services
Management and operation of furnished apartment accommodations
Sub-lease transactions
Management & operation of local web media
Customers
Hikari Homes works with many of the major international and Japanese companies, organizations, and embassies with a significant presence in Tokyo. The following is a selection of our customers spanning investment, accommodation, and rentals.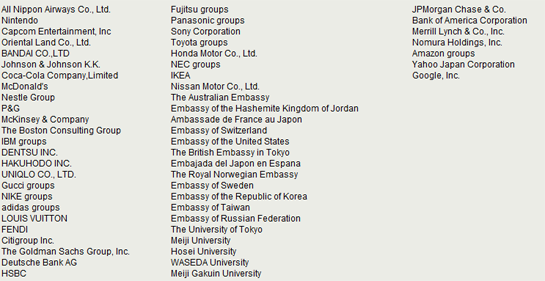 Organizational chart